Reducing Environmental Footprint
Compliance with environmental regulations and efforts being made to minimize impact on the natural environment
Promoting Energy Recycling
Hyogo Pulp recycles energy and waste materials that are generated by its production processes for reuse as energy.
The pulp production process creates a byproduct called black liquor (a pulp digestion waste liquid). In order to reuse it along with wood scraps that are not suited for raw material use, the Company built a biomass power generation facility that supplies 100 percent of the plant's required electricity. All excess electricity is supplied to the local community.
By promoting energy recycling and energy conservation activities, the Company reduces the usage of heavy oil and other fossil fuels, and curbs CO2 emissions.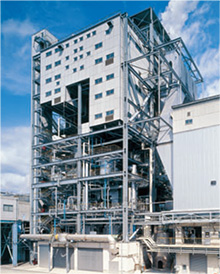 The No. 3 soda recovery boiler
Controlling Waste Materials
Through its corporate and production activities, Hyogo Pulp is promoting efforts to achieve zero emissions so as not to generate any waste materials.
During pulp production, organic sludge is generated in the wastewater treatment process. The sludge is dehydrated and incinerated in-house. The resulting incineration ash is sent to a contractor where it is turned into a solidified and granulated material. It is then used as a reclaimed filling material in landfills.
Likewise, inorganic sludge generated in the process of manufacturing chemicals used to digest chips is dehydrated and shipped to an intermediate processing company. The dehydrated sludge is then recycled into a raw material for cement or a foaming inhibitor for use in converters at steelworks.
Through these efforts, the Company is pressing forward to reduce the final disposal volume of waste material.