Pioneering wood biomass power generation
In 1993, Hyogo Pulp became the first company in Japan to supply a significant amount of electric power from biomass power generation (No. 3 generator), using a pulp digestion waste liquid (black liquor) for fuel. In 2004, the Company started up a biomass power generator that mainly uses construction scrap wood for fuel. With this addition, the Company received green electricity certification and increased the amount of electricity it supplies to the local community.
Biomass power generation provides a stable supply of renewable energy. High hopes are thus held for its growth for the betterment of society.
As a pioneer in wood biomass power generation that uses scrap woods as fuel, Hyogo Pulp is moving forward with its efforts to supply energy that is friendly to the earth and society.
Current State of Biomass Power Generation
Generators are run by high temperature steam derived from biomass energy incineration to generate electricity.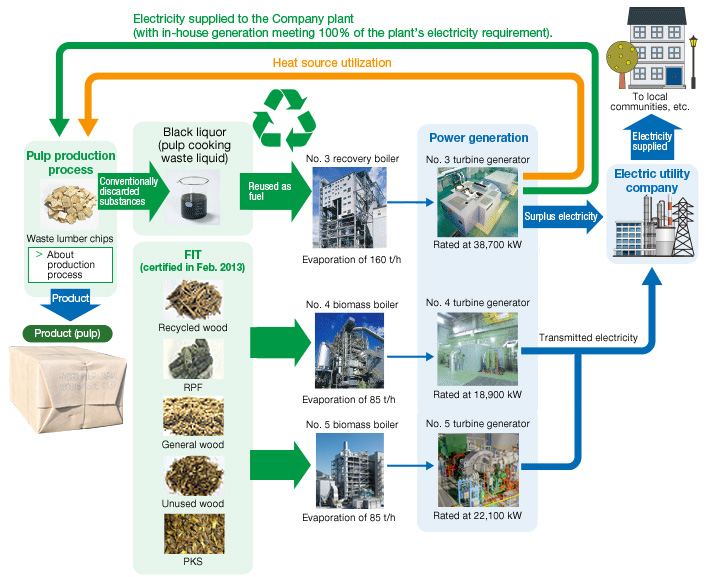 No. 5 biomass boiler
The No. 5 biomass boiler is a new biomass power generator that has been in operation since December 2017.
It runs on unused wood, general wood, and PKS, all of which are biomass fuels. It is capable of burning fuels with a high water content in a stable manner because it is equipped with a water-cooled, step-grate stoker boiler. The broiler's power output is 22,100 kW. Being granted the facility certification for the Feed-in Tariff Scheme for Renewable Energy, the Company sells the generated power to electric power suppliers.